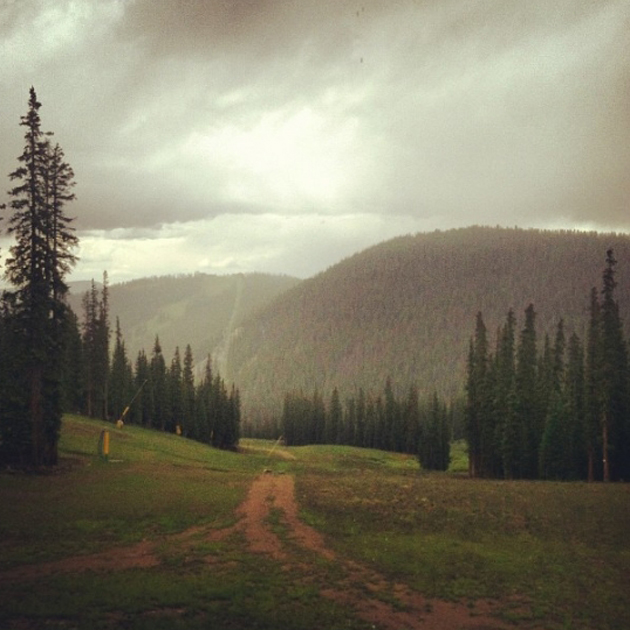 When you decide to have a mountain top gathering, it's a really good idea for you to hvae a rainy day back up for a wedding at the Alpenglow Stube at the Keystone Resort. In the summertime, it rains more often than it doesn't, and it's best to prepare and plan for strong winds, wet weather and colder than wanted temperatures. This couple married at a venue that guests took two gondolas to get to. We drive up. If it's rainy, it will be cold. Prepare guests by suggesting layers, or providing shawls or blankets. A welcome bag with trail mix, chocolate, portable oxygen, local maps and magazines, and a flashlight would be nice. Or, suggest guests download an app that will brighten up a dark gondola.
Ask us how we can help describe the feeling that these wedding venues at the Keystone Resort provide. We've been working at them for almost 20 years and have seen lots of events happen at each one over the years. We love the Ski Tip Lodge and the Keystone Ranch, and neither require a gondola for transportation. Oh, the choices you have to make. Let's talk soon, ok?
Please contact us to learn more about the table centerpieces you see here in the Alpenglow Stube. It's the smaller of the two rooms at the Outpost at North Peak. Timber Ridge is the much larger room with super tall ceilings. It's a completely different experience than the intimate scene at the stube. 
In the image above, the couple makes a smart call to have the ceremony in front of the fire place. For a small crowd, this is perfectly fine, as your guests will be much more comfortable. You can always go out for photos once the rain has cleared. Go with the flow, and if nothing else, there's always the cake to end the day on a literal sweet note. Thanks for reading!