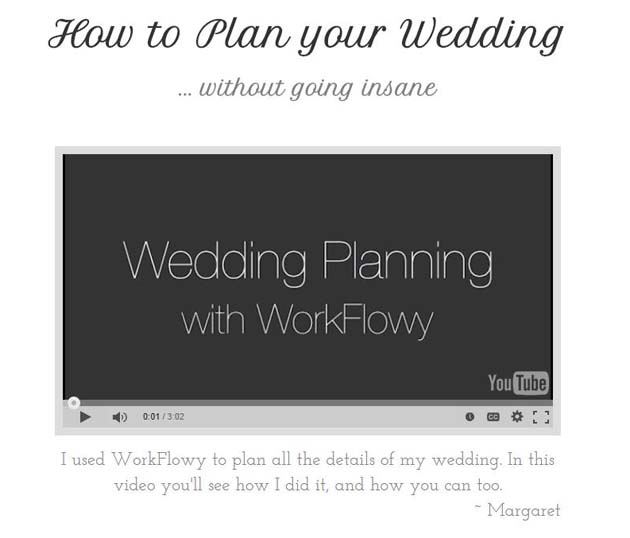 Planning a wedding requires organizing lots of people and details, so that's why I wrote today's post about Using Workflowy and Online Tools to Plan Your Destination Wedding. No matter how small the wedding, there's always something important to keep track of. We used Minigroup while running Petal and Bean and coordinating flowers and planning. But, now there are other platforms that do similar function without the mini social network feel of the Minigroup.
Inspiration >> Wedding Blogs and Magazines
You can always start the good ol' fashioned way and pick up a few wedding magazines at Barnes and Noble or similar location. Check out the wedding planning aisle or just go online and see what they have. Either way, there are plenty of books that can inspire you with weddings with different colors, styles and at various locations. Atmosphere creates experience.
There are lots of national magazines that over style and overall planning tips. Regional print publications aren't comprehensive and can contain outdated information. Refer to online resources found in print to cross reference availability, new offerings, current specials and links to social profiles.
Organization >> New Media Technology
Most of these platforms run "in the cloud" and sync with all your devices, offering real-time updates and cross-collaboration. What does that mean? It means someone working on finding you a cake maker can cross that off the virtual list you make and let you know about it. It's about having access to the information you need, regardless of where you're at and the device you use.
For example, you can upload files, create folders for pictures, text documents, PDF's and other information regarding the planning of your event. You can share information with select individuals that you trusting to help you plan.
Personalization >> Social Media
A fun part of wedding planning is choosing who will be with you on your journey. Get to know vendors through recommendations from other vendors, online resources and their websites. There you should be able to find links to their social profiles on Facebook, Pinterest, Instagram, Twitter and Google+. Create circles on the plus, lists on Twitter, and public or secret pinboards, which can all be shared in a private Facebook group. Use a special hashtag and share photos on Instagram. Make your media social with these platforms. Thanks for reading and happy planning!